Wills and Estates
Estates – Probate and Administration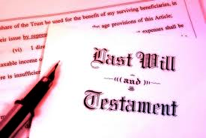 Help your family deal with your death.
In the event of the death of a Covered Individual, National Referral Attorney(s) shall extend a thirty percent (30%) reduction (Gold Plan) or a twenty percent (20%) reduction (Standard Plan) of fee to the estate of the Covered Individual. The thirty percent (30%) reduction shall apply to the percentile contingencies (as applied to all assets that are included in the estate for estate tax purposes) set forth, for example, in the New York State Surrogates Court Procedure Act, Section 2307, for New York estates; or New Jersey Surrogates Act, Section 54:34-5C, for New Jersey estates; or the usual and customary fee of the Referral Attorney(s), whichever is less.
Low rates are also available for representation of the estates of family members.