Personal Injury – Greg Cannata & Assoc
Law Office of Greg Cannatta and Associates
Gregory J. Cannata & Associates is a leading personal injury law firm dedicated to aggressively representing New Yorkers who have been injured through the negligence of others. In addition to providing our clients with compassionate and individualized representation, we pride ourselves in assertively advocating for our clients in order to obtain superior results for them.
The Firm
Gregory J. Cannata & Associates was established in 2001 as a spin-off of the legendary plaintiff's personal injury firm Schneider Kleinick & Weitz where Gregory Cannata was the managing partner and a trial attorney. Since its inception, Gregory J. Cannata & Associates has grown from one attorney – Gregory Cannata – and one secretary, to a hardworking team of four established attorneys and ten support staff.  The firm has over sixty-five combined years of personal injury litigation experience.

Since 2001 the firm has remained true to three important principles. First, we handle a few, high quality cases rather than scores of smaller cases. This means that our attorneys devote the time and resources necessary to achieving the maximum recovery for our clients. We prepare your lawsuit for trial and not a quick settlement. If the insurance company wants to settle your case before trial, we dictate the terms, not them.

Second, we believe that each case is unique. As a result, we never try to "squeeze" your lawsuit into pre-drafted pleadings or theories. Your attorney will develop a unique litigation plan for your case in order to maximize your recovery.

Third, in order to effectively represent our clients, we believe that each attorney must have an intimate knowledge of their client's case. You will not see a parade of attorneys each handling a separate aspect of your case or not taking the time to know you or see the larger picture. One attorney is responsible for your case from inception to conclusion. That attorney will take the time to understand how your accident has changed your life so the case can be presented to achieve the maximum result.

Our track record speaks for itself. Since 2001 Gregory J. Cannata & Associates has resolved over 130 cases for our clients. Eighteen of these cases resulted in verdicts or settlements of $1,000,000 or more and over thirty resulted in verdicts or settlements of between $500,000 and $1,000,000.  The total recovery for our clients since 2001 is over $85,000,000.

To discover more about the law firm and our achievements, please contact us for a free no-obligation consultation. 

 

Gregory J. Cannata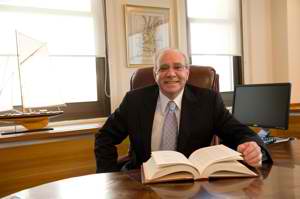 A Bronx native, Gregory J, Cannata attended DeWitt Clinton High School, Lehman College (CUNY), and York University in England. Mr. Cannata obtained his law degree from New York Law School in 1977. He was admitted to the New York State Bar in 1978 and is also admitted to practice in the federal courts.
Mr. Cannata began his legal career as an Assistant District Attorney in Bronx County. Later he was a staff attorney at a civil defense firm. In 1982 Mr. Cannata joined Schneider, Kleinick & Weitz, New York City's powerhouse personal injury law firm, as an associate. Five years later he became a partner. Mr. Cannata's successes led to his appointment as managing partner of the firm. During his tenure at Schneider, Kleinick & Weitz, Mr. Cannata tried and assisted in the trial of over one hundred lawsuits which resulted in verdicts and settlements in excess of $1,000,000.

As the principal of Gregory J. Cannata & Associates, Mr. Cannata takes a personal interest in each client's case. He uses his three decades of personal injury litigation experience to oversee the handling of every case and to ensure the best possible recovery for each of his clients. Mr. Cannata's strong legal and people skills have earned him a Martindale-Hubble "AV" rating, the highest rating for an attorney. Most recently, Mr. Cannata's notable organizational and leadership skills resulted in his appointment as "Plaintiff's Liaison Counsel" for the federal court cases brought by hazardous substance cleaners injured following September 11th.
In addition to running a successful legal practice, Mr. Cannata is also a regular lecturer at Bar Associations on Personal Injury litigation and an avid sailor.