Elder Law Rider for Gold Plan Members $10/month (2 Year coverage)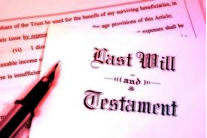 | | |
| --- | --- |
| Elder Law Rider for Gold Plan members | ($10/month) |
| Legal Security Package | Free |
| Health Care Planning Consultation | Free |
| Estate and Tax Planning Consultation | Free |
| Minor's Testimony Trust | $200 |
| Complex Last Will/Testamentary Trust | $1,750 – $2,500 |
| Living Trusts | $1,250 |
| Medicaid Fair Hearing | $1,000 |
| Medicaid Appeal | 25% contingency cap |
| Deed with Life Estate | $250 plus recording fees |
| Family Court Representation – Medicaid lien | $1,750 |
In consideration of the payment of the sum of one hundred twenty dollars ($120) per year (payable in installments of $10 per month), Covered Participant and Covered Dependent(s)* are entitled to the benefits described herein in relation to Elder Law matters. The Elder Law Rider may be purchased at any time by the Covered Participant by contacting the Administrator at 855‑560-10100. However, there shall be no proration of the additional fee where the Elder Law Rider is added during Covered Participant's Plan year.
Introduction to Elder Law
 In addition to the comprehensive services available through the basic legal plan, this rider extends legal services in the specialized field of Elder Law to the Covered Individual. Elder Lawyers can advise on State law and assist in putting a health and estate plan in effect, which can maximize eligibility for coverage of nursing home and home care costs while preserving one's estate and assets. Elder Lawyers could also be of assistance if net worth exceeds $1 million and you reside in New York State or New Jersey (check your state's estate tax exemption or call the Legal Plan Office for more details) or asset structure is unusually complex. The  Legal Plan Office has contracted with  attorneys who specialize in the subject of Elder Law and health law, estate planning, wills, trusts, pre-nursing home planning, probate and conservatorship issues. They have distinguished themselves in the eyes of other attorneys and are known experts in the field of Elder Law. Many states do not permit attorneys to state they are specialists in a particular legal subject because, in most states, there are not specific certification procedures. Contrary to the custom of the medical profession, attorneys usually are not designated as "Board Certified Specialists" by the State.  In many states, it is therefore improper to advertise that one has a "specialty;" however, a national panel of highly respected attorneys who substantially limit their practice to Elder Law issues is available with this rider.The Elder Law fee schedule is commensurate with the high level of experience these attorneys have. The Legal Plan Office attorneys will be pleased to discuss all issues concerning estate planning in an effort to determine if the services of one of the specialized firms is advisable for a particular client. In many cases, the involvement of a specialist may be unnecessary; however, the attorney from the  Legal Plan Office will recommend the services of an Elder Law attorney when he or she believes it is advisable. Alternatively, one is free to ask for a referral.
Elder Law Attorney Fees
Through the Elder Law Rider, Elder Law attorneys' usual fees are reduced by twenty-five percent (25%) by virtue of their contract with the National Legal Office. The fees set forth herein are general guidelines only. When you are referred to a specific firm, the  Legal Plan Office will advise you regarding that firm's discounted billing rate. [Note: The guaranteed hourly legal fees and free office consultation described in the Legal Benefits section of this Certificate do not apply to this rider.]
Elder Law Rider Benefits
 1.      One (1) Legal Security Package within a twelve (12)-month period.
As an added benefit for those purchasing the optional Elder Law Rider, the Covered Individual is entitled to one "Legal Security Package" in any twelve (12)-month period. The Legal Security Package consists of a Health Care Proxy, Living Will, Durable Power of Attorney (long form) and Simple Will.
To obtain the Legal Security Package, print it from the Plan Web site, www.myunionlegalplan.com; log in and use the Legal Security navigation tab on the left-hand side. If you do not have Internet access, contact the Administrator at 855-560-1010 and a Legal Security Package will be sent to you.
All documents included in the Legal Security Package must be prepared for the same Covered Individual. When the Elder Law Rider has been purchased, a Legal Security Package questionnaire will be included in the Plan fulfillment kit. Each document drafted in response to the completed questionnaire(s) will be prepared for named Covered Individual, addressing personal needs of same individual. A Covered Participant who has the Elder Law Rider may purchase additional Legal Security Packages for Covered Dependents directly from the National Legal Office at a cost of sixty dollars ($60), effective September 1, 2010, for each Package.
2.      Free Elder Law Consultation
An Elder Law consultation is the heart of the relationship with the client and the source of legal strategies. It can be used:
a.       to ensure the client's health care and financial wishes are carried out;
b.      to provide the best health care available, including, where appropriate, utilization of available government programs and resources (such as Medicare and Medicaid);
c.       to assist in the coordination of other community-based resources, such as private geriatric care managers and nonprofit agencies that service the needs of senior citizens; and
d.      to plan a strategy regarding estate and tax planning matters.
An Elder Law consultation generally includes the following:
 a.       Financial review and analysis, including review of all assets, real and personal; how the assets are held; examination of all sources of income in addition to income produced by assets, including pension benefits, Social Security benefits, payments from annuities and other instruments such as trusts, contracts of sale, mortgage notes and other secured or non-secured obligations; review of all life insurance held, including the face value and cash surrender values thereof.
b.      Health Care insurance review, including an analysis of existing Medicare and Medicare Supplement benefits as well as Long-Term Care Insurance benefits.
c.       Health Care analysis, including review of existing conditions, inquiry into competency, review of discharge planning and available options, where appropriate.
d.      Review of current documentation including existing wills, trusts, powers of attorney, health care proxies and health care declarations.
e.       Summary of consultation and recommendations in letter format to client.
3.      Complex Last Will and Testament/Testamentary Trusts –
Average Fee with Discount…………………………………………………………………. $1,750 to $2,500
Complex Wills containing the following provisions commonly utilized in the Elder Law context are available as necessary:
a.      Federal Credit Shelter Trust: to preserve the unified credit of each spouse while providing for the financial care of the surviving spouse.
b.      Supplemental Needs Trust: to provide for the supplemental care of the surviving spouse or children. This is offered to take advantage of the federal provisions under the Comprehensive Omnibus Budget Reconciliation Act (COBRA), which permits discretion in testamentary trusts (something that is clearly not available in lifetime trusts). This form of trust permits the trustees to utilize the trust funds in a manner that supplements for the care provided by existing governmental programs rather than substituting for such care.
4.      Living Trusts
These lifetime trusts can be utilized for ordinary estate planning reasons (such as avoiding probate) or for more complex trusts for health care planning.
a.      Revocable Living Trust or QTIP Trust
            Average Fee with Discount………………………………………………………………………….. $1,250
Revocable Living Trusts are utilized for ordinary estate planning purposes.
b.      Irrevocable Living Trusts Average Fee with Discount…………………………………… $1,250
Utilized in health care planning, Irrevocable Living Trusts usually involve a stream of income to the Settlor of the trust or the Settlor's spouse with remainder to the children, or possibly to the trustees of a trust created under the Last Will and Testament of the Settlor.
5.      Fair Hearing Average Fee with Discount…………………………………………………………… $1,000
In the event a Medicaid application is rejected, one is entitled to a "Fair Hearing." This representation includes appearances at hearings as required; preparation of memorandum of law and/or brief, if necessary; affidavits; meetings and correspondence.
6.      Preparation of Application for Medical Assistance –
      Average Fee with Discount –
      Billed at hourly rates ranging from………………………………………………………………………. $250
Preparation, review or clarification of applications for Medical Assistance, and assistance with the filing of the application.
7.      Deeds Average Fee with Discount………………………………………………… $250 + recording fees
For estate planning purposes, it may be advisable for an Elder Law attorney to prepare a deed that retains a life estate and/or special Power of Appointment. These features are incorporated to avoid or reduce gift tax and capital gains tax as well as to protect assets from Medicaid.
8.      Family Court Representation Average Fee with Discount…………………………………… $1,750
To recover spousal income or defend suit against Department of Social Services that may result from a Medicaid Lien.
9.      Medicaid Appeal for Nursing Homes and Hospitals – Average Fee with Discount
Twenty-five percent (25%) of amount recovered.
NOTE: All additional correspondence, telephone communications, negotiations and coordination with geriatric care managers or social workers are billed at hourly rates, appropriately discounted. In addition, disbursements made on behalf of the client, such as long-distance telephone charges, facsimiles, photocopies, overweight postage, etc., are billed to the client at cost. All exclusions and qualifications of the basic Legal Plan apply to this rider as well.
---
* The definition of Covered Dependents is expanded, only within the parameters of the Elder Law Rider, to include Covered Participants' parents, parents-in-law, grandparents, and grandparents-in-law.